In a bike-friendly world, our bikes can help drive the mobility revolution. If we are to succeed at making change for a more sustainable future, we must work together. We have a long journey ahead of us and are constantly making changes for the better. We continually adapt our products, location and the way we work together to reduce our environmental impact through a number of measures.
Our bikes are pre-assembled before they reach our dealers and shipped in large cardboard boxes. It is simple and easy to recycle the majority of our packaging materials. Wherever possible, we also use recycled waste paper and – if required for transport – FSC-certified fresh cellulose sourced from sustainably managed forests. We have reduced the use of foil or plastic packaging to an absolute minimum.

We use the following materials for our cartons:

Our standard cartons are constructed from 100% recycled content.
Our e-bike cartons are constructed from at least 80% recycled content and 20% FSC-certified fresh cellulose sourced from sustainably managed forests, to keep the contents safe with added stability and moisture protection.
VIEW INSIDE OUR BIKE PACKAGING
We have replaced many of the composite packaging materials used inside the boxes with paper-based alternatives, and strive to find more sustainable solutions that will allow us to eliminate plastics entirely in the future.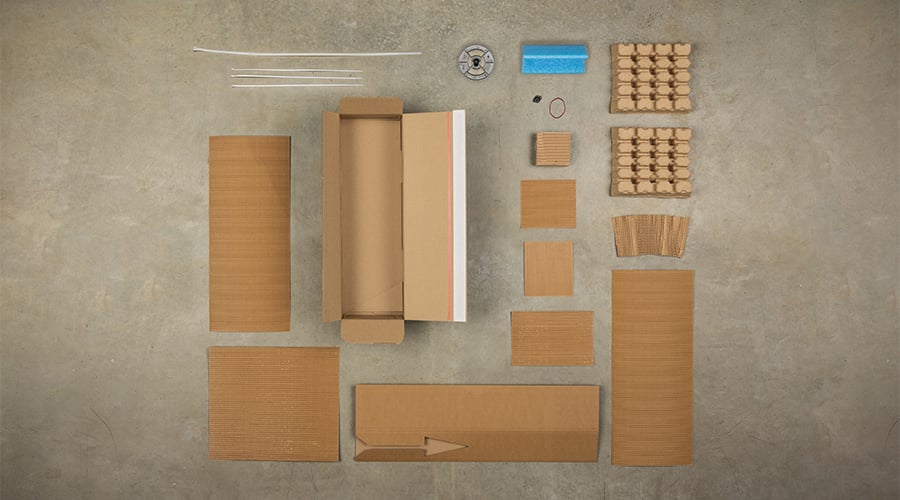 Accessory boxes
---
Information
All accessory boxes are made from 100% recycled waste paper.
---
Scratch-prone surfaces
---
Information
Bike frames and other scratch-prone surfaces are protected by self-adhesive corrugated cardboard; 100% of the linerboard and 25% of the fluted section is constructed from 100% recycled cardboard. The adhesive is based on potato starch and corn starch.
---
Fixing and support elements
---
Information
Fixing and support elements, padding and handlebar protection for mountain bikes are made from 100% recycled waste paper.
---
Fork protectors
---
Information
Fork protectors are made of synthetic material and PE foam. In the coming season we will phase this out in favour of moulded paper forms. We currently use PE foam protectors on our high-end carbon-framed bikes, but we're working to find a more sustainable alternative. (not in picture)
---
Handlebar and frame protection
---
Information
We use bubble wrap to protect our road bike handlebars and frames and are working hard to replace this with an innovative new paper material.
---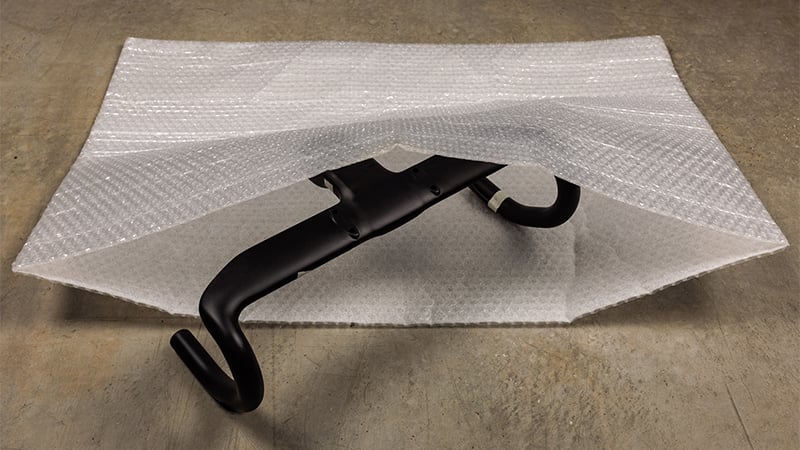 ---
Every bike goes through rigorous testing in our in-house lab. Our safety and functional requirements are well above standard thresholds, giving our bikes a lifespan of up to 20 years. We do our best to ensure the maximum longevity of our bikes through a combination of our guarantees and warranties, the CUBE Crash Replacement Service for frames and the long availability of spare parts. And the backwards compatibility of Bosch components helps prolong the lifespan of e-bikes so owners can enjoy them for many years to come.
MUDGUARDS MADE OF 100% RECYCLED PLASTIC
We have six mudguards in our mudguard portfolio that are already made from 100% recycled polypropylene.
BOTTLE CAGES MADE OF 90% RECYCLED PLASTIC
We have four bottle cages mudguards in our portfolio that are made from 90 % recycled nylon. The recycled material is sourced from end-of-life fishing nets. Their second life starts as our ACID Bottle Cages
Since 1993 we have remained true to our location in the Fichtel Mountains of northeastern Bavaria. Loyalty to our regional roots and strengthening the area is not only a matter of pride for us, but is also born out of a deep conviction. We are committed to our home region and do our utmost to keep distances as short as possible.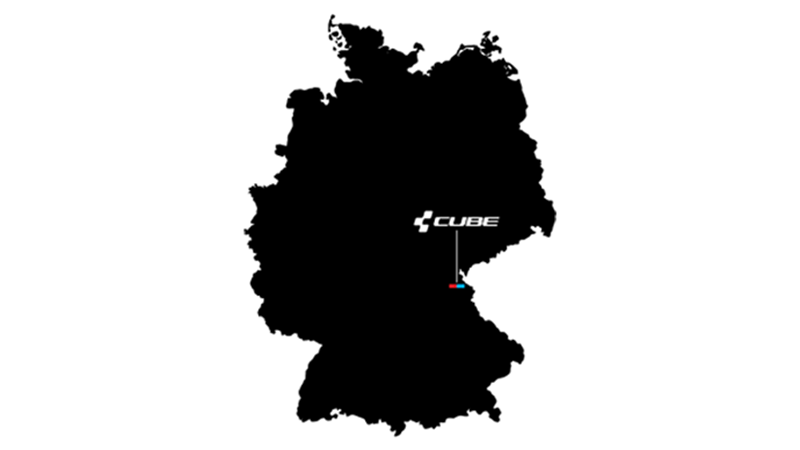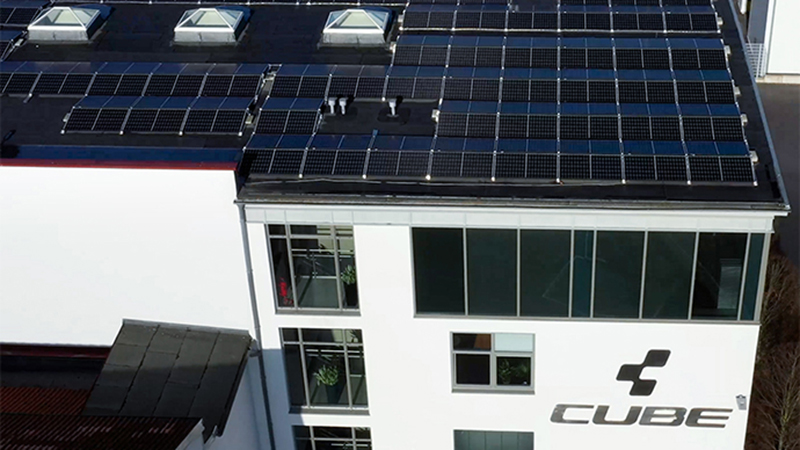 Over 50% of our electricity needs are covered by a photovoltaic system, covering over 650 m2, along with a cogeneration plant that generates electricity as a by-product of heating.
Energy-saving heating with heat recovery in our warehouses and factory halls cuts our energy needs by 70% compared to conventional heating systems. Individually controllable LED lighting reduces our power consumption. A ventilation system with 30% heat recovery delivers air flows through ducts and textile hose outlets to ensure a comfortable climate in our production facilities. We have minimised the use of chemical cleaners and replaced them wherever possible with biodegradable alternatives. Space is used optimally courtesy of high-bay warehouses, while automated workflows reduce the number of transport journeys required between buildings.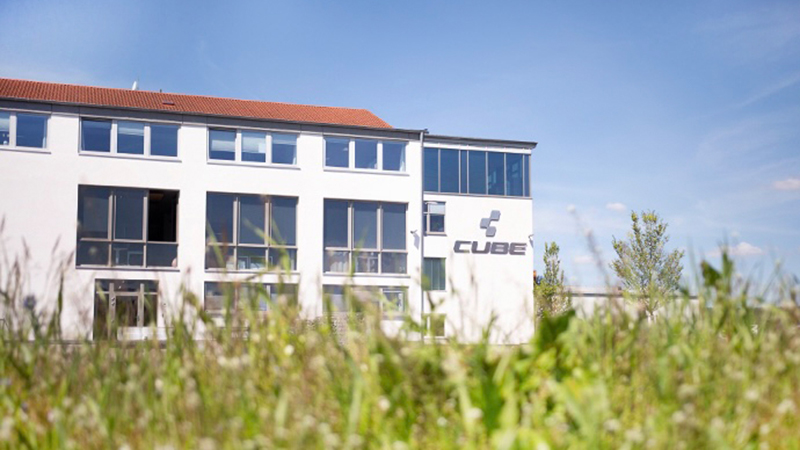 Water dispensers connected to the local drinking water supply and refillable glass bottles are provided in all of our buildings. An in-house staff canteen cooks for our employees several times a week and provides catering and refreshments for guests at our on-site events.
We have re-purposed a large number of paved areas by planting native flora.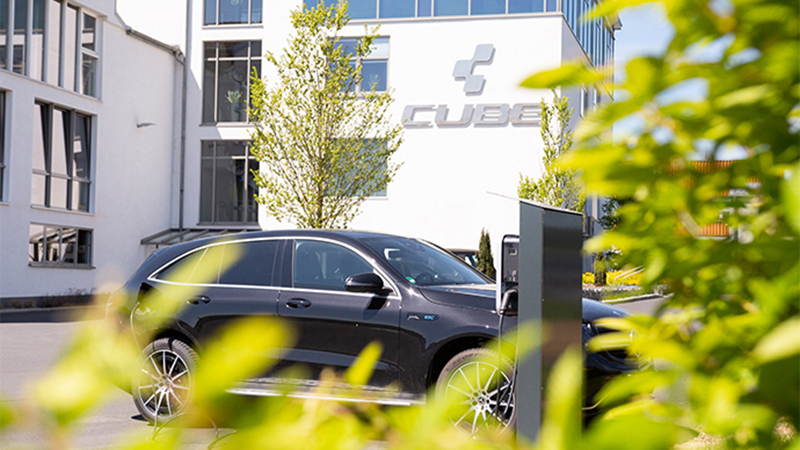 Not only are we transitioning our company vehicles to e-mobility, but we also use a fleet of bicycles to commute between our headquarters and our production halls and warehouses. Both sites are linked by a bike path.
The CUBE family is united by its love for two wheels – in all their forms. Because new ideas make the world go round. As a family business, we foster junior talent within our company and are one of the region's largest training providers.
We also place value on cultivating long-standing relationships with our partners. Our CUBE dealers are part of the CUBE family, and we save them unnecessary trips and paper by providing virtual training modules, our own app and digital documents. Shipments to retailers are combined to minimise the number of transport journeys required.
Long-term partnerships with our suppliers are equally important to us. Our partner Bosch is also based out of Germany.